County Tribute Rustic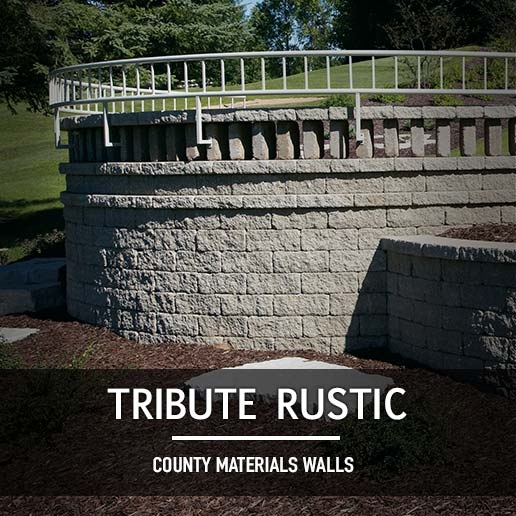 The Tribute® Retaining Wall System offers earthy textures and rich color blends found in natural stone. Crafted of high strength concrete, Tribute units combine structural integrity, dimensional consistency and lasting performance for outdoor hardscapes.
With its versatile design options, the Tribute collection is the perfect companion for small scale or ambitious landscape applications.
Tribute Rustic Face

Whether they are used in classic or contemporary applications, Tribute's Rustic Face compliments any landscape setting with its classic proportions and split face texture.
The Tribute family is also crafted with a distinctive Rustic Finish face style. Its uniquely rough hewn appearance imparts a weathered aesthetic, giving the impression that landscape features have been around for decades.
County Tribute Rustic
Versatile design capabilities:
Raised patios
Straight & curved walls
Steps
Corners
Terraces
Pillars
Seat walls
Planting beds
Slope protection
With multiple pin grooves on the tops of each unit, Tribute retaining walls can also be constructed with different face alignments. Design walls with vertical, stepped out or set back faces for the ultimate in design creativity.
(Note: Tribute units can be ordered with an optional two-sided face to construct stand alone seat walls.)
Tribute Rustic Face Shapes & Sizes
Standard Unit
Corner Unit
Straight Wall Cap
12"D x 3-5/8"H x 15-1/2"L
Tapered Wall Cap