Fireplaces, Fire-pits, Fire-tables
Fire pits, places and fire tables enhance and increase the use of your outdoor spaces. As a Borgert dealer, we carry the full line of King of Hearth fireplaces and pizza ovens. They can be purchased pre-veneered for installation ease or unfinished to allow for custom veneering. These fire units allow for a traditional wood fire and bring warmth and ambience to your yard. We also stock a variety of fire tables that can be used with natural gas or propane.
These units provide the benefits of a fire with the convenience of a switch. Their custom cut and polished stone tops provide individuality and uniqueness that cannot be duplicated. We have access to numerous styles of fire pits, tables and places. Allow us to find the unit that works with the look you are trying to achieve.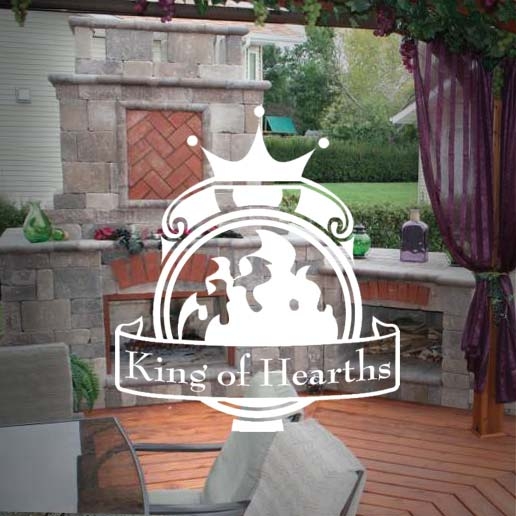 King of Hearths Fireplaces
Few things are as enjoyable as spending time with family and friends in your own backyard. There is nothing better to add to that experience than the warmth and glow of a crackling wood fire in a King of Hearths outdoor fireplace, pizza oven or grill. With safety in mind, place your choice of outdoor furnishing(s) anywhere you choose. If it's marshmallow roasts, wood fired pizza, succulent grilled foods or all of the above, King of Hearths is here to help with all your outdoor living pleasures.
King of Hearths precast products are among the easiest to set up. The 2- or 3-piece mortarless forms require no frost footings in colder climates ­a 10" to 12" aggregate base or concrete slab is all the foundation needed. To finish your product we offer unique options such as tumbled dry-stack retaining walls for an old-fashioned look in modern times. Or you can select a myriad of stone, brick or stucco choices.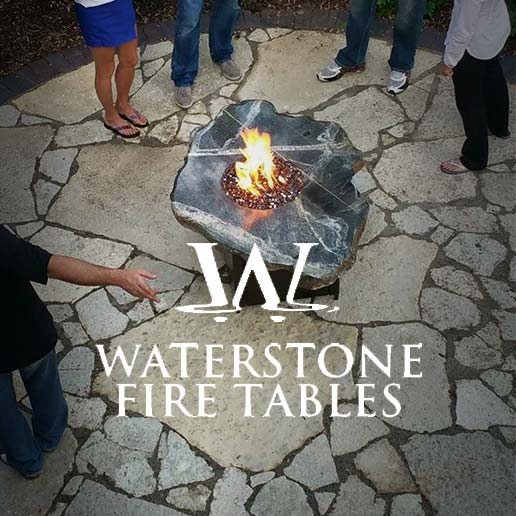 Waterstone Firetables
Gneiss boulders from Minnesota were formed deep in the earth and revealed when glaciers excavated and deposited some of the most amazing rocks in the world. Each boulder is completely unique, and we hand select the best.>/p>
Our edgework goes above and beyond! We pick out small features in the stone and accent them. The ring around the fire is not just a piece of metal that hangs on a cutout, instead it is bullnosed, polished and the burner is inset to make the fire look like it is coming out of the rock itself!
Our bases are locally made and each one is laser cut, offering no sharp edges. Our doors have a magnetic latch that opens with ease yet closes tightly. They are zinc primed for the outdoors, and premium powder coated to a variety of finishes to match the rock. We use high quality custom elements including gauge metal for structural support with a variety of finishes, options for rock gabions for the base and several base sizes.