Lighting and Pond Supplies
Low voltage landscape lighting is the best way to extend the hours you spend enjoying your outdoor spaces. Spot lights, pathway lights, and under cap lights bring attention to your outdoor spaces and increase the safety of your home by reducing trip hazards and deterring intruders.
Alliance Outdoor Lighting and Advantage Lightsource manufacture high quality cast brass fixtures that come with a lifetime warranty. Adding exterior lighting to your landscape offers the finishing touch to encapsulate all the beauty of your home and yard.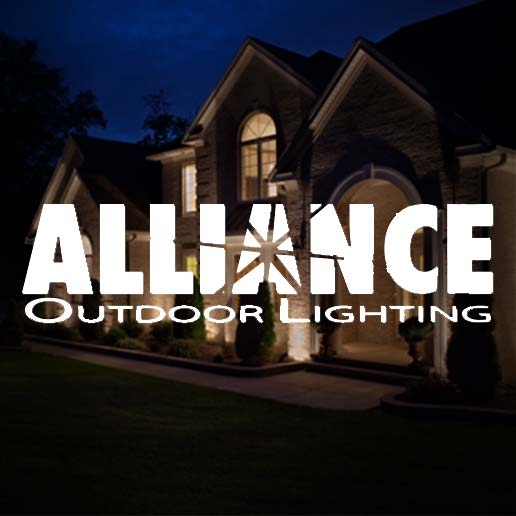 Alliance Outdoor Lighting
ALLIANCE Outdoor Lighting is proud to provide a high quality product at reasonable prices that fit the tough standards of architectural grade product along with the economy requirements of today's market. We have carefully developed an approach to product development that takes practical concepts in low voltage outdoor lighting and creates an easy-to-specify and easy-to-install method for our industry.
All of our fixtures are manufactured using either heavy cast brass or spun brass which yields a corrosive-free finish supported by a lifetime warranty. Each fixture includes a 25-foot wire lead, a long lasting high quality lamp and the mounting device (stake or mounting bracket). Each standard fixture comes in Aged Brass, which is a rich, chemically applied, acid finish that will age appropriately for the occupied environment.
The transformers were developed to include multiple voltage taps that allow the specifier and the installer to account for the voltage drop that is prevalent in low voltage lighting systems. Each transformer is manufactured in a stainless steel enclosure and includes a lifetime warranty.
The options for water features are as endless as your imagination, and we carry the pond supplies you need to make your water feature a dream come true. We stock a full line of Atlantic Pond products to get your pond construction started: Pond kits, pumps of all sizes, pond liner, lights, spillways, skimmers, aqua falls, pipe and fittings, and water treatment. Your dream of sitting outside and relaxing to the sound of water flowing can become a reality with the pond supplies we offer.
Water features add a look, sound, and an ambiance to a landscape project that cannot be substituted elsewise. From small bubbler rocks to expansive ponds, Atlantic Water Gardens offers a complete line of pond supplies. Duplicate the incredible sound of a babbling brook or river with one of Atlantic Water Garden's many choices in water feature kits. We stock the necessary pond supplies for any water feature. We specialize in cutting and core drilling outcroppings for bubble rocks, and we stock pumps, liners, skimmers, falls, and more for your pond free or pond projects. Allow your yard to become a paradise by adding a water feature that you can enjoy every day.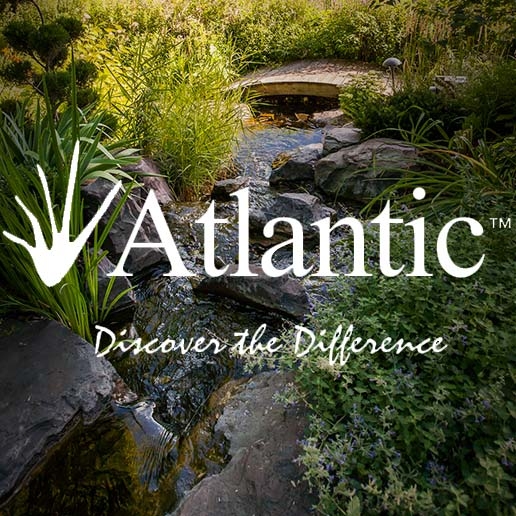 Atlantic Water Gardens
Since the late 1980's, the innovative water feature products of Atlantic Water Gardens have helped create beautiful backyard oases that everyone can enjoy. From its beginnings on the Jersey Shore featuring easy-to-install pre-formed ponds, filters and skimmers, Atlantic has grown into today's thriving company, with excellent, innovative products that encompass every facet of water gardening.
Now headquartered in Mantua, Ohio, Atlantic continues the tradition of bringing new and exciting products and programs to market. With dealers, distributors and a dedicated sales staff covering all of North America, Atlantic is ready, willing and able to help you with your next water feature project.
We invite you to explore our full line of pumps, fountain basins and decorative toppers, water gardening skimmers and filters, pond-free pump vaults, matrices and falls, solid brass LED lighting, water feature maintenance products and the most innovative, award winning accessories on the market, not to mention the original Colorfalls, the first and still the best lighted spillway in the world.