Services
Superb customer service is a priority at Rock Hard Landscape Supply. In addition to selling landscape products, we offer several specialized delivery services to meet your needs. Our trucks are set up to deliver various landscape products including decorative rock, boulders, dirt, mulch, or palletized stone. On any given day, our trucks deliver products all over the Minneapolis/ St. Paul areas and to cities from Rochester to Fargo and the Wisconsin border. Most local deliveries can be scheduled within a day or two, but during our peak season, the more specialized trucks require more lead time.
Our dump trucks haul up to 14 tons of landscape supplies or 25 yards of mulch per load. The dump trucks can also be used in combination with a trailer for delivering palletized landscape supplies, and we can unload palletized products for customers who do not have the proper equipment. Our specially designed truck boxes have side gates allowing them to be used for both bulk products and/or palletized materials. This versatility makes them a very valuable service to our customers. These trucks do, however, only have the ability to deliver one bulk product at a time.
We use a boom truck to haul boulders because we can individually pick and set them with a clam. This helps us get the size of boulders you need, keep the sizing uniform, and minimizes the damage boulders do when unloading. We can also handle boulders carefully to avoid scrapes or other damage to them and place them individually as accent rocks by the curb line. Our boom truck hauls up to twenty tons per load.
Our walking floor trailer delivers up to 100 yards of mulch per load. This truck is ideal for delivering to large maintenance accounts or to customers who have yard space to have their own bins.
The End dump set-up is used primarily for hauling boulders. It can only deliver in open flat areas which often restricts its use. This truck hauls 22 ton and can also deliver salt in the winter or decorative rock.
We have a tipper truck set up to haul small loads of rock, mulch, or dirt. This truck is perfect for the residential project of 3.5 ton or less. This truck fits well in tight areas and suits many DIY projects well.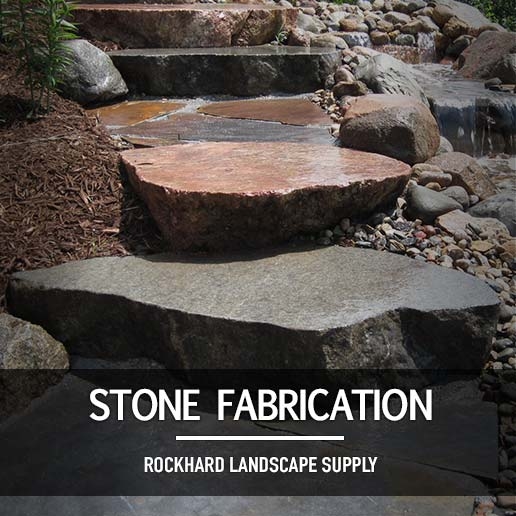 Custom Stone Fabrication
Custom stone fabrication is a niche we provide our customers that adds another level of uniqueness to landscape projects. Using a wire saw, we specialize in slabbing fieldstone boulders to make cut boulder steps. These steps pair well with fieldstone boulders in projects where steps and/or walkways are needed.
Our systems have been refined over the years to produce beautiful, uniform 7" height steps with a consistent thermal finish. We also produce cut boulder steppers to be used as stepping stones in walkways or paths. They are cut to 2" heights and can be thermaled or left with a sawn finish.
In addition to boulder steps, we produce cut limestone steps and granite steps from limestone and granite outcroppings. All of these items are stocked in our yard. Using our vertical wire saw, we can custom cut other stone orders for monuments, signs, benches, etc.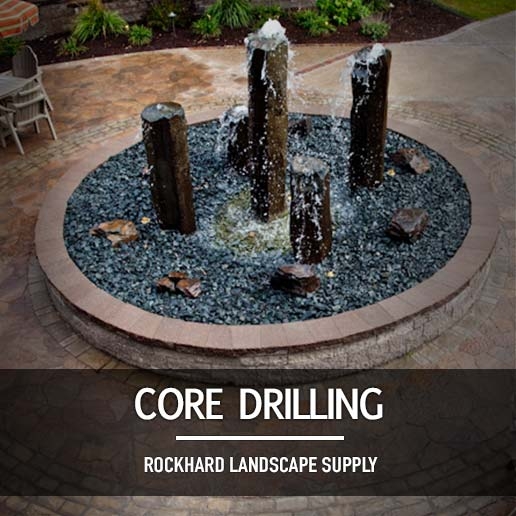 Core Drilling
Core drilling is another niche service we offer. Core drilling is most commonly used to drill holes in boulders to make water features. Bubbler rocks are a very popular low maintenance addition to any landscape project. They provide the aesthetic appeal and soothing sound of water customers are looking for, and are easier and more budget friendly to install than other water features.
Our core drill is able to core ½" to 4" diameter holes and up to 14' heights. We stock a large selection of basalt columns and bowls for drilling as well as other outcroppings. Each rock is drilled based on a custom order and generally can be completed within a 1-2 week timeframe.